AJ's new show "Schooled" (a 1990's spinoff of "The Goldbergs") will be premiering Wednesday January 9th at 8:30/7:30c on ABC. Check out the first official trailer!

AJ has joined the cast of the 1990s-set spinoff of "The Goldbergs"! The show has been picked up for 13 episodes and will air this fall. Congratulations AJ!
The Disney-owned network has handed out a 13-episode series order for the 1990s-set spinoff formerly known as Schooled. Additionally, former Goldbergs series regular AJ Michalka (Barry's ex-girlfriend Lainey) has joined the cast of the untitled spinoff, which has been retooled after original star Nia Long was no longer available. (She is a series regular on CBS' NCIS: L.A.) The series will air during the 2018-19 broadcast season and follow the teachers of William Penn Academy — led by Tim Meadows' Principal Glascott, Bryan Callen's Coach Mellor and Michalka's Lainey Lewis — who, despite their eccentricities and crazy personal lives, are heroes to their students.

The Goldbergs spinoff had a unique path to the screen. Created by Goldbergs showrunner Adam F. Goldberg and Marc Firek, the spinoff starring Callen and Meadows landed at ABC with a script commitment in November 2016. It was picked up to pilot in February 2017. Long was set to star in the single-camera comedy about two teachers (Callen and Meadows) who become unlikely father figures to the kids at their Philadelphia school. The original pilot revolved around Glascott, now the principal, and his sister (Long), who sends her two teenage daughters (Rachel Crow, Summer Parker) to the high school where she winds up teaching.

Goldberg, Firek and Doug Robinson exec produce the spinoff, whose original pilot was directed by Jay Chandrasekhar (The Goldbergs) and written by Firek. Firek, who has been with The Goldbergs since its start, came up with the new take for the spinoff that helped get the ABC green light. The pickup for the spinoff comes as Sony Pictures Television Studios continues to fight for shows they believe in. Robinson also played a big role in helping to fight for the project.

The spinoff narrowly missed a series pickup at ABC last May, with producers Sony Pictures Television Studios — where Goldberg is under an overall deal — determined to find a new home. (Hulu was said to be interested at the time but a deal was never reached.) Goldberg — who has hours of home movie footage from his childhood in both the 1980s and '90s — believed in the premise and persuaded ABC to air the pilot as a special episode of The Goldbergs. (Star Wendi McLendon-Covey guest starred, even though her kids already graduated from the school in the '80s.) The original pilot cast included Missi Pyle and Ana Gasteyer.

"Last spring, the '90s spinoff tested higher than the Goldbergs pilot, so I certainly had high hopes for the project," Goldberg told THR in January. "[CBS' already-renewed] Young Sheldon has proven that fans are very loyal and will watch a spinoff, so we are hopeful that we make a real splash when it airs so we can begin the conversation again about getting this on the air."

ABC Entertainment president Channing Dungey told THR in January that she was hopeful the spinoff would get a second chance at the network. "I'm excited because there were so many things about the pilot that I really loved and I'm excited to share that with audiences. After that, we'll see what happens," she said. "We have one more season of The Goldbergs. The show is doing really well for us. At the moment, I'm hopeful we have more down the road. I'm excited to see how [the spinoff] plays and what the audience's response to it is."

The backdoor pilot aired Jan. 24 as "The Goldbergs: 1990-Something," scoring 6 million viewers (off 7 percent from the week prior) and a 1.7 among adults 18-49 and rating as the night's most-watched show in advertiser-coveted demographic. That helped fuel the discussion about a series order.

The Goldbergs is already renewed for the 2018-19 broadcast season (its sixth season overall), though it's unclear if that will be the show's final run. Sources say could conceivably run beyond that, though Goldberg already knows how the show will likely end.

"The last episode is Adam's [Sean Giambrone] high school graduation, which marks the end of his childhood," Goldberg told THR in an October feature pegged to the show's 100th episode. "I'd love to go beyond season six, but it will always be set in the '80s. We have yet to run out of any videos of mine, and there's just so much from that decade I love. And I don't want to set it in the '90s because I hope that one day that will be the spinoff of some sort."

For her part, Michalka played Lainey, the former girlfriend to Barry Goldberg (Troy Gentile) and best friend to Erica Goldberg (Hayley Orrantia) on the flagship. She recurred in seasons one and two before being promoted to regular for three and four. She still pops in from time to time in the show's fifth season. Her credits include Super 8 and The Lovely Bones. She's repped by Gersh, Primary Wave Entertainment and McKuin Frankel.

The Goldbergs spinoff arrives as ABC is heading into next season knowing it could say farewell to Modern Family and potentially the 1980s-set original. This season, the Disney-owned network will wrap veteran comedy The Middle (as well as dramas Scandal and Once Upon a Time). The Goldbergs spinoff is ABC's first new comedy series for 2018-19, joining straight-to-series dramas The Rookie (starring Nathan Fillion) and Take Two (which may air this summer). It joins a roster of returning fare including previously announced renewals for Roseanne and The Good Doctor.

Goldberg is repped by WME, Circle of Confusion and attorney Bruce Gellman. Firek, whose credits also include the original Will and Grace, Mr. Sunshine and 'Til Death, is repped by UTA and Hansen Jacobson.
Tickets for Aly & AJ's upcoming Promises Tour are now on sale!! Go here to buy tickets! More dates coming soon!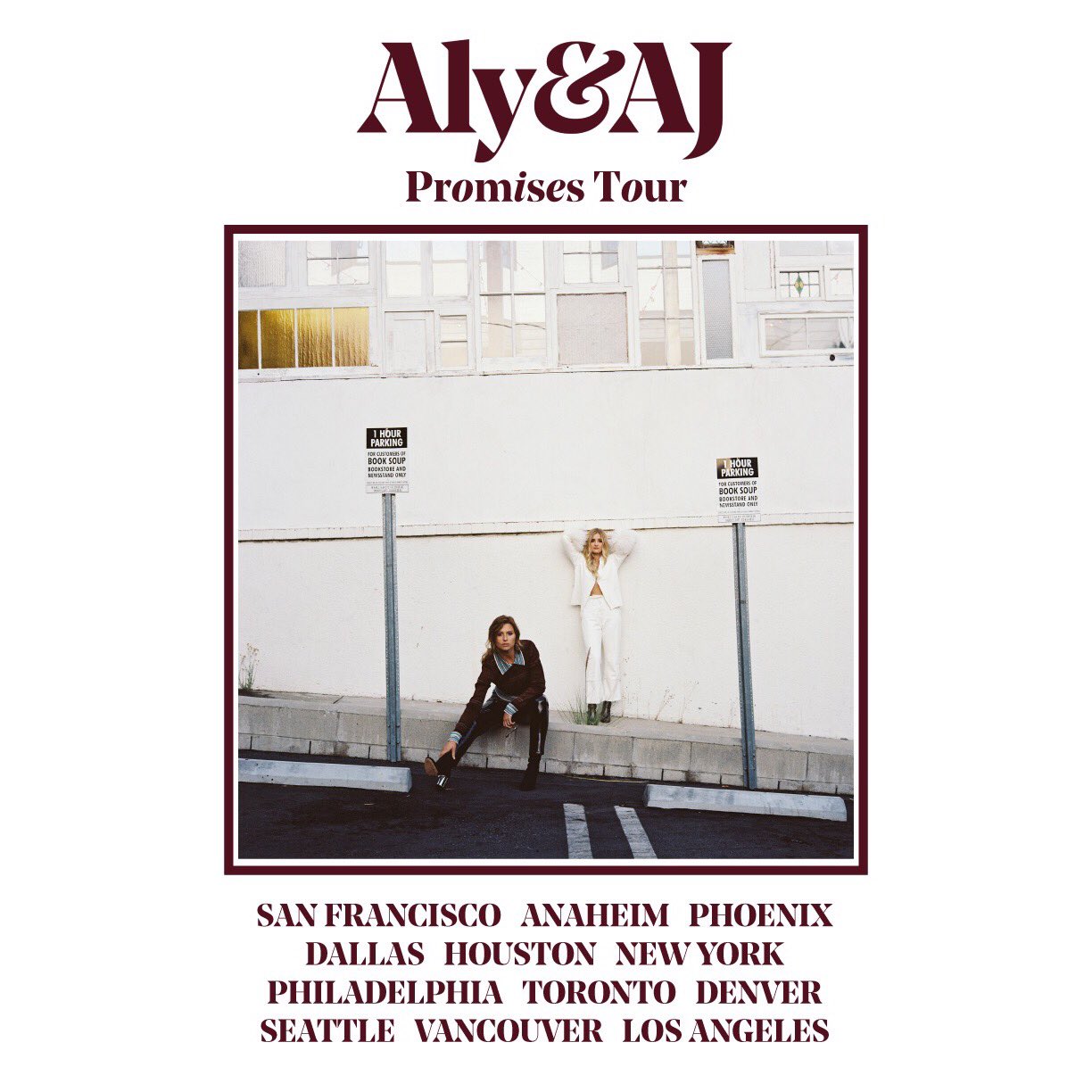 Check out Aly & AJ's new interview and photoshoot with Interview Magazine below!

Gallery Link:
004 x Photoshoots & Magazine Scans > Photoshoots > 2018 >
Photoshoot 003
How Aly & AJ avoided the child star curse and invented a new sound
Aly and AJ Michalka (born Alyson and Amanda Michalka), a.k.a. the Y2K teen idols Aly & AJ, have journeyed from L.A. for their first New York fashion week. Aly, in particular, is a style maniac, although both arrived for this photo shoot in stunning outfits; AJ wore black patent leather pants that squeak when she walks. Despite busy days in press junkets and playing shows (they recently performed for Ferragamo at a party launching the brand's new scent), the sisters seemed chipper, posing like professionals.

The occasion for their trip? After ten years spent focusing on acting projects—Aly stars on Veronica Mars-creator Rob Thomas's iZombie, AJ on hit family sitcom The Goldbergs—the sisters Michalka have released an EP, appropriately titled Ten Years. The four-song EP, led by single "Take Me," is a floaty wisp of confectionary dream-pop. The siblings call their music "nostalgic," but it also smacks of the now, with an '80s synth style re-popularized by producers like Dev Hynes and Ariel Rechtshaid.

"To me it feels a little bit like a soundtrack to life, and I think that's the most interesting part about the production," says AJ. "I tend to lean towards songs that almost feel like they're the score to a film, and I feel like this record really does that."

In adulthood, the Michalkas have much more control over their work (the production of Ten Years was self-funded). Though they have always written their own songs, these are the tracks with which outside hands have interfered the least. "I think the most important thing is that we've really grown from being these 16- and 14-year-old songwriters that were writing about experiences that we [hadn't had yet], like having a boyfriend or losing someone important in your life," says Aly. "We were just writing those assuming what you would feel like if that happened to you." Continue reading Interview Magazine
Aly & AJ will performing on TRL TODAY at 4 p.m. EST and they will also be visiting Build to discuss Ten Years on Thursday at 1 PM EST!
10 Years Post-Disney, Aly & AJ Are Reinventing Themselves — & Their Style

In 2007, Aly and AJ Michalka — commonly known as Aly and AJ — released Insomniatic, the studio album that brought the world "Potential Break-up Song," one of 2007's most popular anthems. That year saw the sisters become Disney darlings, open for Hannah Montana on the Best of Both Worlds world tour, score their own teenage rom-com, Cow Belles, and walk the red carpet in balloon dresses, chunky belts, and printed Pucci.

It's not 2007, though. It's 2017, and the names Aly and AJ, at least as one, packaged deal, have been a twinkle in most millennials' nostalgia-minded eyes. That all changed on Friday, when they dropped their first single in a decade, "Take Me." Along came the inevitable headlines: "Aly & AJ Drop A Dreamy New Single Like It's 2007," and "Aly & AJ's New Song 'Take Me' Is So Worth The 10-Year Wait."

But don't call it a comeback.

"I think I'd call it more of a revival of [us] finding music again," AJ tells Refinery29. "We really focused on our acting careers, and even though music has always been our number one love, we just went through a long period of time where we hit a wall, just in regards to writing and our passion for music. And we found that [passion] again."
Born and raised in Los Angeles (minus seven early years spent in Seattle), Aly and AJ were first signed at ages 15 and 13, respectively. "It sounds weird to say we were so young when we started, but we really, actually, truly were," Aly notes. "Now that we have a little more wisdom and have just been in the business longer, we look back at things" — things like touring and flying around the world — "and go, 'Wow, that really wasn't normal.'"

They're now 28 and 26; Aly is married, AJ is a series regular on the ABC sitcom The Goldbergs. Though not even 30, the duo has become a symbol of early-2000s nostalgia, something they admit is "trending" and certainly helps catapult them back into the mainstream.

"People have been coming up to us a lot after seeing that we have new music coming out and they'll be like, 'Oh my gosh, you were my childhood,'" AJ says. "And it just makes me laugh, because, you know, we're young ourselves. To be a part of someone's past is so interesting and weird. We haven't been around that long, but it has been long enough for people to grow up with us in a way that made a really big impact." Continue reading Aly & AJ – Refinery29 Feature
Aly & AJ's first single "Take Me" off of their upcoming EP will be released August 18th! The single cover has been added to the gallery as well as photoshoot pictures from the EP album shoot.
Gallery Link:
007 x Magazines & Photoshoots > Photoshoots > 2017 >
Photoshoot 001
Aly & AJ are back!! We are SO excited to share our new music with you via our Fan Club here at PledgeMusic! Join the club by purchasing a variety of great items, bundles & experiences. Once a member, you will get exclusive first looks at our music videos, behind the scenes updates, streams of new music and much more! You will get a download of our new single "Take Me" right when it's released, followed by our new EP which is coming this fall! As a member, you will be the first to know what's happening in our world, with a lot of special announcements coming real soon! We love our fans, and we hope you'll come along for this brand new ride with us!